Nick Kyrgios Net Worth: A professional tennis player from Australia named Nick Kyrgios has a career-high world No. 13 ranking. He has competed professionally since 2012 and holds six ATP singles titles. He is 27 years old right now. He first came to public attention in 2014 at Wimbledon, where he advanced to the quarterfinals by defeating Rafael Nadal, the then-world No. 1.
Kyrgios has an assertive and aggressive style of play. His serves have a top speed of 220 Kmph. The audience enjoys watching the Australian sport, especially with his showmanship and a short fuse. Because of the matches' high level of entertainment, he is referred to as the "box office."
Due to his aggressive nature, Kyrgios' name has frequently been linked to controversy. Additionally, he has admitted that he "does not love tennis" and is not as committed as the top players. In 2017, he admitted to tanking at least eight professional tournaments because "he'd rather be doing something else" after also facing accusations of doing so.
Must check:
Nick Kyrgios Net Worth
Krgios is a very accomplished tennis player, despite his apparent lack of enthusiasm for the sport. His total prize money won throughout his career is a whopping $8,987,950. His net worth is around $15 million, including earnings from endorsement deals and collaborations.
Is Nick Kyrgios a Grand Slam Champion?
Despite reaching nine ATP finals and winning six ATP championships, including a Masters 1000 final at the 2017 Cincinnati Masters, Kyrgios has yet to establish himself at a Grand Slam tournament.
The 27-year-old entered a stage beyond the quarterfinal of the "big four" earlier this year at the SW19 tournament despite having played on the tour for ten years.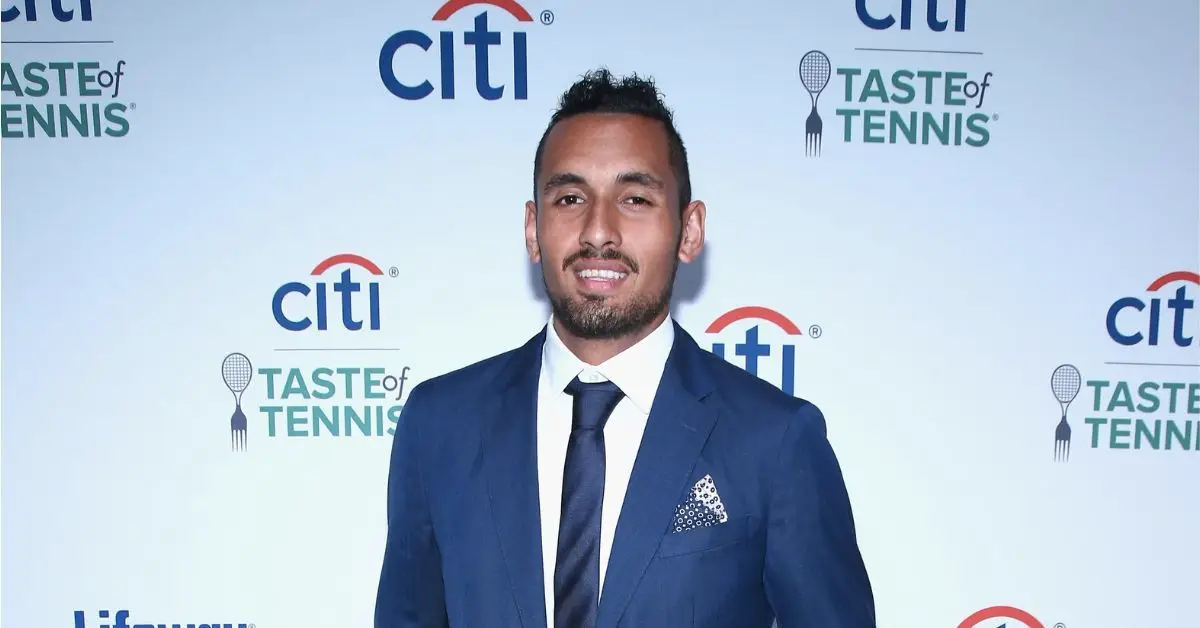 Image source: Distractify
In 2015, Kyrgios also advanced to the quarterfinals of his home tournament, the Australian Open. Still, before this year, he had never gone past the third round of either the French Open or the US Open.
He has also been successful in men's doubles, having won the Australian Open earlier this year with fellow countryman Thanasi Kokkinakis.
Nick Kyrgios World Ranking
In the ATP world rankings, Nick Kyrgios is ranked 25th following his triumph in London earlier this summer.
He has never ranked higher than 13, which he did in 2016.
He entered the Wimbledon tournament as an unseeded 40th-ranked player, but he quickly defeated Stefanos Tsitsipas, the fourth seed, in the third round. Kyrgios had the number 23 seed going into the US Open.
que hace @NickKyrgios jugando al fulbo para brasil? pic.twitter.com/Z5YdGwYyjt

— fk (@zimbalaica) November 24, 2022
Who is Nick Kyrgios Girlfriend, Costeen Hatzi?
Hatzi, who is 22 years old and was born and raised in Brisbane before relocating to Sydney, was described in an article in The Express.
She graduated from the Australian Catholic University with a degree in psychological science.
Hatzi has more than 85,000 Instagram followers and has been captured on camera supporting her significant other at the All England Club during his matches numerous times.
After defeating Daniil Medvedev in the US Open fourth round, Kyrgios spoke of his girlfriend and credited her for his success in 2022, saying: "I have a great girlfriend; she helps me. My physio, my entire squad, everyone."
Several Media Outlets Have Dubbed Nick a "Tennis Bad Boy"
Although Nick has some excellent serving abilities, most of the media attention he has attracted has been related to his match appearance. Nick is infamous for losing his cool quickly and making a ruckus at tennis competitions. He has been nicknamed a "tennis bad boy" by many publications.
Is this the most disagreeable man in tennis, claims the Daily Mail in an article that opens, "Is this?" Nick made a scene at the 2019 Rogers Cup when a white towel wasn't waiting for him. He also hurled a chair onto the court while losing to Serbian professional Novak Djokovic that same year.
Let's go back to March 2022, when he was warned for hurling a tennis racket at a ball boy. He is also accused of spitting at a spectator supporting his rival while he was at Wimbledon in June.