The second-largest domestic airline in Ghana is called Passion Air. Accra, Kumasi, Takoradi, and Tamale are the four locations in Ghana where PassionAir has domestic flights. The business is headquartered at Ghana's Accra Kotoka International Airport.
In August 2018, it began flying between Accra and Kumasi; Tamale and Takoradi were also added. Entrepreneur, politician and art collector Edward Annan established PassionAir Ghana in collaboration with DAC Aviation of Kenya. You may reserve flights with PassionAir Ghana from Accra to Kumasi, Kumasi to Accra, Tamale to Accra, Takoradi to Accra, and Tamale to Accra.
According to Passion, Air Ghana, they aim to offer the Ghanaian aviation market timely and secure schedules between Accra and essential locations to produce a fantastic travel experience. Passionate strives to be the go-to airline in Ghana and West Africa by providing affordable services.
How To Book A Ticket At Passion Air Ghana?
Passionate Ghana offers a variety of alternatives to booking a flight so that you do not need to stand in a long line. On their website, through their mobile application, and over the phone, you can make a flight reservation.
How To Book A Flight At Passion Air Ghana On Their Website?
The procedures below can be used to book a flight with Passion Air Ghana online.
Step 1: Make a flight reservation
Check out their website at flypassionair.com.
Select the "Book a Flight" link on the homepage.
From the field, choose the location (departure place) from which you will fly.
Decide where you will be arriving in the field.
Select your departure date in the departure date section.
Choose the number of adults (those aged 12 or older) in the following field.
Choose the number of children in the following field (2-12 years old). Pick a child if you have no children (2-12 yrs).
Choose the number of infants from the field after that ( 0-2 years old). If you don't have a baby, choose Infant (0–2 years).
Choose between a one-way and round-trip journey. As the name suggests, the one way is simply to your destination, while the round trip is for your in and out.
Select "Flight Search" from the menu.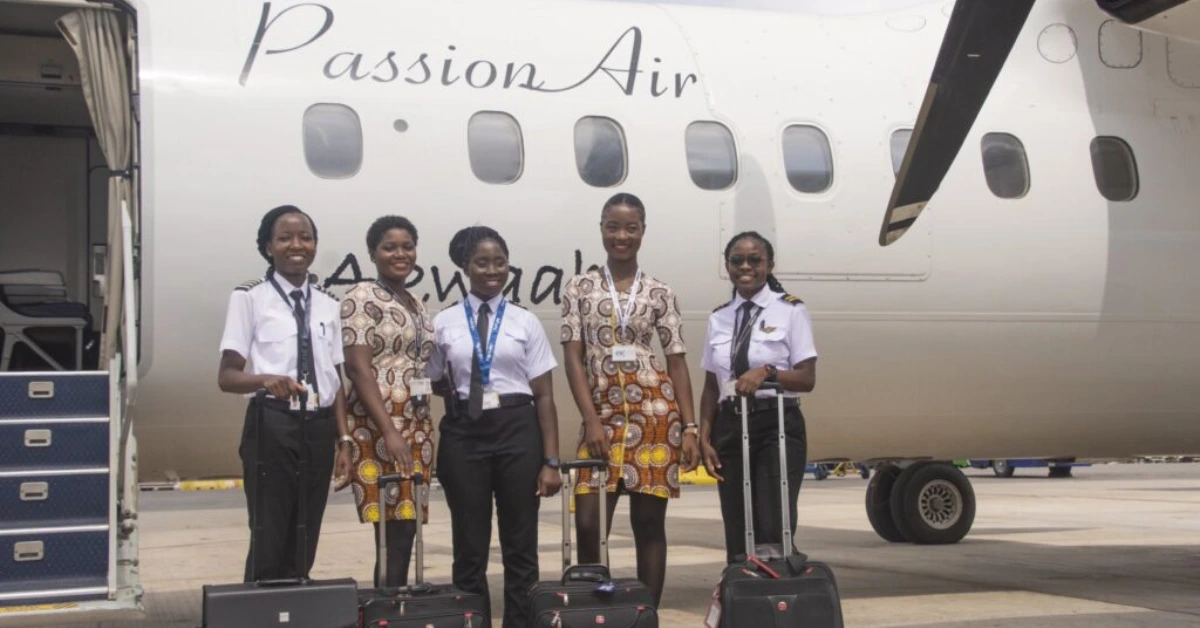 Making your bookings is step two. At this point, you will see the available tickets and departure times; select the one you are comfortable with by clicking the select button beneath it, and then click CONTINUE at the bottom of the page.
You must input accurate personal information on the Passenger Information page. Remember that the fields for your title, first and last names, phone numbers, and email addresses must be filled out.
Select "Continue" from the menu.
You can select the seat of your choice on the following page. Pick the backside you desire. Please be aware that this is an optional extra that will cost you GHS5.00 when you reserve a seat. To access the Payment section, click Continue.
Choose a payment option. You can either pay now or later using a credit/debit card, mobile money (MTN, AirtelTigo, Vodafone), or both.
You will be given a period when your reservation will be automatically cancelled if you opt to pay later.
You've booked a flight with Passion Air via their website; confirm your payment.
How To Book A Flight At Passion Air Ghana Using Their Mobile App?
The procedures listed below will help you successfully book a flight with Passion Air Ghana via their mobile app if that's what you choose to do. If you don't already have the app on your phone, get it from the Google Play Store or the App Store.
Start the app. Then click on Book a Flight.
Choose between One Way and Round Trip.
Select your departure airport and your arrival airport by tapping on From.
To choose the date of your flight, tap on the Departure Date.
Select the number of adults, kids, and babies, then click "OK."
On the Search Flight button, click.
Click CONTINUE after choosing your preferred time and ticket type.
If you chose more than one individual, provide their information and your own. Click CONTINUE after entering the contact information.
Pick the seat you desire. Selecting a centre and tapping CONTINUE are both optional and cost GHS5.00 each.
Verify your information, then click CONTINUE. Choose a payment option.
Verify the payment.